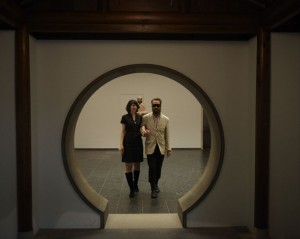 http://www.mpa-b.org/27-may-2014.html
'TRUST ME', a piece by Spanish artist Gema Alava, will be the fourth performance of the Erogate/Surrogate Series, an on-going attempt to trouble the notion of an 'autonomous performer' and of an 'original performance' – and its potential re-performance– by exploring ways in which we are infused by, internalize and collaborate (or not collaborate) with others as well as with our environments. During the two months leading up to May 28th, Gema will share all the details of her work via Skype and e-mail with her surrogate Ilya Noé who will then present it to Berlin audiences. Following what Gema did in New York back in 2010, Ilya will individually guide a total of seven participants wearing dark glasses through two major Berlin museums while performing one-on-one verbal descriptions of particular elements in their surroundings. These participants will be selected out of an semi-open call.
A post-performance discussion on artistic research, collaboration and the ramifications of the 'erogate/surrogate' experiment will be hosted at the MPA-B Hub the next day.
WHEN: MAY 27, 2014
WHERE: at two major art museums/institutions in Berlin which shall remain unnamed.
TIME: 12-18 hrs
Photo: Jason Schmidt (2010)